September 2016 Employee Awards
Quality of Life Enhancement
1508 staff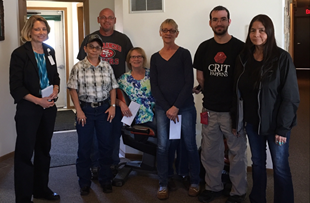 This month, the spotlight is on 1508, where one tenant has worked hard to make progress towards his weight-loss goal.  Carol DeLorme led the effort to support better food choices, eliminate unhealthy snacks, and follow-through with exercise plans.  Other staff involved with the process include Tim Hase, Mike Marquart, Wendal Ebach, Jackie Nichols, Dennis Horner, Sue Axness, Mary Borud, and Michelle McHenry.
---
New Module Certifications
Kudos to these people who have completed their module requirements!

Tessa Giurbino, Tara Lagerquist, Jessica Folden, Stephanie Marquez, Marissa Williams,Cassondra Helgeson, Mark Louden