March 2015 Employee Awards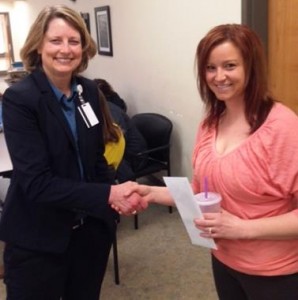 Congrats to Ericka Wilcox (DSP) for being selected as the March Employee of the Month.  Ericka was nominated for devoting her work time and efforts towards not just implementing positive behavior supports, but figuring out how to help a person learn appropriate coping skills and adaptive behavior.  Ericka was also nominated for her response to a medical emergency – recognizing that a person needed assistance and implementing her training to provide the assistance. Ericka is recognized as the March Employee of the Month for living out the Kalix aDAPT values every day!
Congratulations to the other nominees: Desirae Armstrong (DSP), Ronda Hiatt (Rolla MSLA), Bree Gray (DSP), Linus DeCoteau (Turtle Creek MSLA ).