Kalix raised over $12,000 for our assistive technology program through the Giving Hearts Day program on February 13th.  A variety of promotions assisted the fund-raising efforts:
The GHD Disability Awareness Challenge invited local celebrities to attempt completion of a variety of everyday tasks while contending with simulated disabilities
Sweet & Flour offered free cupcakes to customers that made a donation
Broadway Bean & Bagel made a donation for each sale of a Red Velvet Latte
Eight participating local non-profits teamed up to get the word out using signs, Facebook, press releases, an audio clip from Josh Duhamel, and a video contest open to local Junior and Senior High students.
Thanks to all organizers, participants, and donors for another wildly successful event!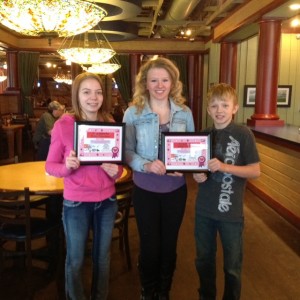 Claire Engh, Mandy Dyke, and Connor Dyke display certificates earned for their award-winning short videos promoting Giving Hearts Day. The Dykes also received $500 and Ms. Engh earned a $150 cash award.  All three are children of Kalix employees.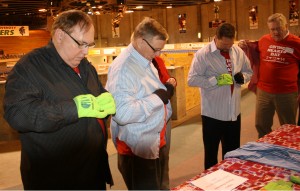 Local celebrities Tom Seymour (Minot City Council), Larry Bellew (North Dakota Representative and Kalix Board Member), Oley Larson (North Dakota Senator), and Dr. David Fuller (MSU President) struggle to get dressed while wearing gloves.  Small buttons are a challenge for many people with limited fine motor skills.